Franziska Gottwald - Mezzosoprano
Vita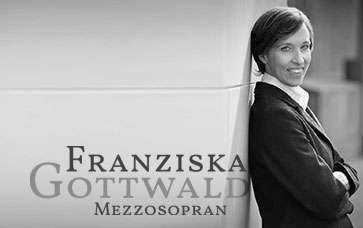 German native Franziska Gottwald enjoys a successful career encompassing multiple facets of classical music; including opera, concert soloist, chamber music, lieder, recording artist, and as a Baroque specialist. Near the end of her university studies, she became a member of the soloist ensemble at the Deutsche Nationaltheater in Weimar for 4 seasons while simultaneously embarking on a solo career.
On the opera stage, she appears as a guest artist in roles such as Cherubino and Sesto (Mozart), Ariodante and Ruggiero (Handel), Orfeo (Gluck), Hänsel (Humperdinck) and Prinz Orlofsky (J. Strauss) at the opera houses in Seoul, Toulouse, Tokyo, Venice, Bilbao, Basel, Cologne, Stuttgart, Hannover, Wiesbaden, the Komische Oper Berlin and the Semperoper in Dresden.
Franziska Gottwald also performs as soloist with many outstanding internationally known orchestras, including the Gewandhaus Orchester Leipzig, the Venice Baroque Orchestra, Europa Galante, the Royal Concertgebouw Orchestra, Ensemble Resonanz, the Amsterdam Baroque Orchestra, Musica Antiqua Köln, Concerto Köln, the Bamberger Symphoniker, the Akademie für Alte Musik Berlin and the NDR and MDR Symphony Orchestras.
Her repertoire as a concert soloist is wide-ranging; from the baroque and classical eras to romantic and modern masterpieces. Orchestral works such as Vita Dvorak's Biblical Songs, Mahler's Das Lied von der Erde or Symphony No. 4, Verdi's Requiem or Berlioz' Les Nuits d'été can be found on the program as well as Mozart or Handel Solo Recitals. Franziska Gottwald has performed in the great concert halls of London, Madrid, Montreal, Amsterdam, Yokohama, Rome, Milan, Florence, Athens, Tel Aviv, Jerusalem, Stavanger, Zurich, Cologne, Munich, Hamburg, Frankfurt, Leipzig, Dresden, South Africa, South East Asia, and many others.
Frequent work with conductors such as Reinhard Goebel, Ton Koopman, Andrea Marcon, Fabio Biondi, Nicholas McGegan, and others, has solidified Franziska Gottwald's reputation as an expert in historical performance practice. Further acknowledgment of her accomplishments in this area came from her winning 1st Prize at the International Bach Competition in Leipzig.
Franziska Gottwald can be heard in many radio, DVD, and CD productions, such as Vivaldi's L'oracolo in Messenia under the direction of Fabio Biondi, L'Olimpiade: The Opera under Markellos Chryssicos, and Handel's Samson under Nicholas McGegan. She can also be heard as a soloist on Ton Koopman's Bach: The Complete Cantatas with the Amsterdam Baroque Orchestra. DVD productions include Vivaldi's Montezuma with Alan Curtis directing Il Complesso Barocco and Galuppi's L'Olimpiade conducted by Andrea Marcon with the Venice Baroque Orchestra.